VISIT WEBSHOP
IN WORDS

© 2019 R&S Music - ISBN 9789463960335
Between 2009 and 2019 the Belgian blues & roots musician Guy Verlinde released 11 albums. He now looks back on this extraordinarily fruitful period with the songbook IN WORDS, for which he selected the lyrics of 50 songs. Sainabou Van Raemdonck illustrated it with her beautiful drawings.

BUY BOOK
ALL IS FORGIVEN

© 2019 R&S Music - R&SCD01
A very personal acoustic album where Guy Verlinde establishes himself as a great storyteller, who paints with words & sound. Many know him from his energetic performances, but on this acoustic album, he shares in 11 originals his most intimate feelings & reflections on life.

Buy LP --- Buy CD --- Download --- LISTEN
X

© 2018 R&S Music - R&SCD01
10 songs celebrating 10 years. This compilation album includes new studio versions of songs that until now were only recorded live and previously unreleased songs.

Buy LP --- Buy CD --- Download --- LISTEN
HOW HOW HOW

© 2017 Blue Sting 053
After recording his Hound Dog Taylor Tribute album in 2011, Guy Verlinde now presents this high-energy album with 11 originals in that same tradition and spirit with a contemporary sound.

Buy LP --- Buy CD --- Download --- LISTEN
ROOTED In THE BLUES

© 2016 Dixiefrog Records
With this collection of 13 original old school blues cuts, #1 Belgian blues artist Guy Verlinde goes back to the roots. He not only digs deep in the past of the rich blues tradition but also shares his own blues roots. Buy LP --- Buy CD --- Download --- LISTEN
BETTER DAYS AHEAD

© 2015 Dixiefrog Records – DFGCD8773
The brand new album from Belgian #1 blues artist Guy Verlinde, formerly known as "Lightnin' Guy", is his most very personal album so far. "Better Days Ahead" is a blues & roots album with a typical "Guy Verlinde" contemporary twist; an album about hope, positive energy & about how to overcome the setbacks in life. For all you blues lovers who like slide guitar & harmonica and who are open for some new shades of blues.

Buy LP --- Buy CD --- Download --- LISTEN
OORLOGSSTEMMEN

© 2014 Parsifal 310
"Oorlogsstemmen" contains all music from the educational concert for youngsters about The Great War (1914-1918): title track "Voices Of War; the war poem "A Wooden Cross" by Siegfried Sassoon, music & Dutch translation by Guy Verlinde; "Let's Work Together" from Wilbert Harisson; "Yser" & "99%" from the "Blood For Kali" album and instrumental versions of "99%" & "Voices of War"

Download --- LISTEN
INHALE MY WORLD

© 2013 Copyright Dixiefrog Records –DFGCD8764.
This album features 12 originals, exploring new musical directions where he blends the love for traditional blues with his contemporary songwriting; creating a unique sound & style. Not only does his music head into new directions, also his lyrics reach deeper & further than before.

Buy LP --- Buy CD --- Download --- LISTEN
BLOOD FOR KALI

© 2012 Copyright Parsifal - Blue Sting 049
This album shows you the acoustic side of Guy Verlinde as he only plays on acoustic resonator & weissenborn guitars, harps & his old suitcase as a kick drum.

Buy LP --- Buy CD --- Download --- LISTEN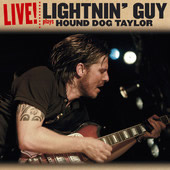 Plays Hound Dog Taylor
2012 © Copyright Dixiefrog Records –DFGCD8718
"Hound Dog Taylor & the Houserockers were all about rhythm and groove. Guy Verlinde pays tribute to his slide guitar hero & inspiration by playing his music in the same setting as he did. This album and video's are a perfect alternative to recapture the magic of a Hound Dog Taylor concert."
Album Out Of Stock --- Download --- LISTEN

Banana Peel Sessions Ft. Guy Forsyth
2010 © Copyright Parsifal –Blue Sting 046
"Guy became a lot more than only a bluesman. This live record shows a versatile all rounder, dyed in the wool of a wide range of southern American musical styles"
Album Out Of Stock --- Download Not Available

Live From The Heart
2009 © Copyright Guy Verlinde & The Mighty Gators "Live from the Heart' is a powerful live album and takes you on a trip from Chicago to New Orleans. 15 steaming songs in 80 min. perfectly capture what an audience experiences during a Lightnin' Guy & the Mighty Gators show"
Album Out Of Stock --- Download Not Available

Lookin' Back
2008 © Copyright Guy Verlinde "Lookin' Back reflects Guy's development as a young blues & roots artist. This album is a selection of studio, live & previously unreleased songs recorded between 1998 & 2008."
Album Out Of Stock --- Download Not Available